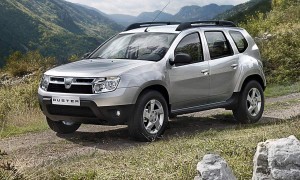 After the successive launches of
Logan
,
Sandero
,
Logan MCV
and pickup, Dacia took a big step on the
4×4 market
with their
Dacia Duster
. The Romanian brand unveiled the production version of the 
Dacia Duster
which has already gone on sale in the spring of 2010. The car is a lot different than the Duster concept unveiled by Dacia & Renault at the 
Geneva Motor Show
back in March, but it still looks like an
SUV
.
The new Dacia Duster will be available in two versions:
4×2
and
4×4
and under the hood it will hide a
1.6L 16V
petrol engine that will provide
110 HP
but it also come with two 
diesel engine options
: a
85 dCi
and a
105 dCi
. These 
diesel engines
have low emissions of just 140g of CO2/km in the 4×2 version and 150g of CO2/km in the 4×4 version.
The 2010 Dacia Duster SUV is a tough, reliable and easy to use 4×4 which is aimed at motorists looking for a daily driver with real off road ability and of course, it's aimed for those who want a cheaper SUV. The car measures 4.31 meters in length and 1.82 meters in width and it has a 200 mm ground clearance with an approach angle of 30 degrees and a departure angle of 35 degrees.
The production version of the Dacia Duster will come with a Bosch 8.1 ABS, en EBV electronic brakeforce distribution and emergency brake assist. The car weights only 1.180 kg in 4×2 and 1,280 kg in 4×4 and its price is going to be announced in a couple of months, depending on the market where it go on sale.
Check out our Dacia Duster cars, easy to drive, comfortable, and well adapted for all kind of country roads.
British tourist...check out this car before the release in the UK! The 'Renault for the budget conscious' brand Dacia are to launch their cars in the UK starting in 2012, despite telling us when they revealed the Duster in December they had no plans for a UK launch.
The rise and rise of Dacia is a remarkable phenomenon. From nowhere in 1999 when Renault bought Dacia, it's been transformed in to a producer of budget cars for 
emerging markets
.
1.25 million Dacias
have been sold in the last five years
and, with consumers in traditional car markets becoming ever more budget aware, Renault feels the Dacia will find a ready market.They've already had success on mainland Europe and now they're biting the bullet to make RHD cars.
The same success we notice for Dacia in car rental business, 
more than 15% of rented cars by EuroCars are Dacia
, at this moment the star is Dacia Duster, initially was included in the 
rent a car Bucuresti
offer and because of the success, now is present in the 
rent a car Timisoara
, 
Brasov
, and 
Bacau
offers and soon in all our rental locations.
But Dacias are not exactly the Lada of the 21st century. In a similar way to Hyundai, they have moved quality upmarket but kept prices sensible. The new Dacia Duster is a budget-busting 
compact SUV
– Skoda Yeti Sized – offering 1.5 litre diesel with 104bhp or a 1.6 petrol with 84bhp. And you can opt for 2WD or 4WD.
An prices start at a very reasonable €11,900. Including tax.
One thing we will have to learn if Dacia are coming to the UK is how to pronounce it. We say 'Day-see-er'. Which is apparently wrong. We should be saying 'Dat-ch-a', in our best Romanian accent. But I think Renault may have a job on their hands convincing Brits to pronounce it their way.
But whatever way you say it, you will be able to buy the Dacia Duster in RHD from 2012. And if you want to know what's on offer,check out the Dacia Duster Press Release.