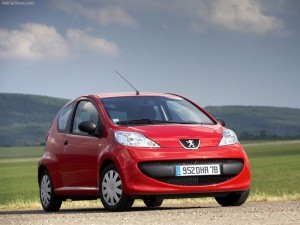 Doors number 4+1

Passengers number 4

Trunk volume 130l

Standard features

Engine 1.0 E

Fuel Gasoline

Comfort A/C, Height-adjustable steering wheel

Security 2 Airbags

Breaking - ABS

Audio - Radio CD
As we already found out from this article, maybe you knew it by now, maybe it is new for you as it is to me, differences between Peugeot 107 and Citroen C1 or Toyota Aygo are almost unnoticeable. So, when we can't offer you Peugeot 107 (cause it might just happen), feel free to agree to a C1 or Aygo.. they were all built to satisfy your next desires: small renting price / small guarantee / fuel consumption - as low as possible (it might just work on air :) ) and last but not least, reliability.
Rent it at 22 euros / day for a 4 - 5 day journey (it is still in the available offer) and you will find out what made it the car of 2010.
Second of your choice...will be soon published, but don't forget: is not the car that makes your journey, it is the way you feel when you drive it, no matter the brand...you're the only responsible for your well-being!
Rent with EuroCars.ro :)