Winter sports
A few good reasons for a ski holiday in Romania
Why do people always choose to go to Austria for skiing when is much cheaper in Romania? In terms of snow conditions, thanks to the continental climate of Eastern Europe, the winter always is cold enough and there is enough snow for all kinds of winter sports.  Spending a winter holiday in Romania can therefore be an interesting and quite affordable idea. Why not spending few days in a mountain resort? It can be an unforgettable experience! Along with the breathtaking landscapes, the ski slopes in Romania attract a large number of tourists, from beginners to advanced ones. The skiing opportunities are completed by activities such as snowboarding, tubing or cross-country skiing.
The "famous" ski resorts in Romania are Sinaia, Predeal and the well known but more expensive, Poiana Brasov.
Getting there:
By plane, you can easily travel to Bucharest or Sibiu and then you can rent a car or take a train to Brasov from where buses are going to the sky resorts Poiana Brasov, Predeal and Sinaia every hour. If you do not want to go to one of these three major ski resorts, you should have a look at other good skiing places such as the one in Azuga, Vatra Dornei, Izvoare, Vidra or Paltinis. There is a considerable number of ski slopes thanks to the Carpathian mountain chain that spreads from West to East and North of the country.Reaching to some of the resorts might be tricky, mostly in winter time.
The ski resorts: Poiana Brasov
This is the number one ski resort in Romania. There are now ten ski slopes, a ski jump and an ice skating rink.  There are two lifts, one chairlift and six lifts. The slopes range from difficulty: both the beginner and the crack can find their slopes here. The highest lift takes you to 1775 meters. You can also snowboarding do in Poiana Brasov.  The snow is great, between December and April there is (almost) always snow. The average snow depth is 50-60 cm and the average winter temperature is -3 degrees Celsius. 
Izvoare is a village in Maramures  where you can ski in very rural area,  with two lifts and a chairlift. This village is located 25 kilometers northeast of the city Baia Mare.
Another beautiful place to visit in winter in Romania is Borsa, a resort village east of Borsa . Here is a ski lift for a slope of more than 2000 meters length and 500 meters in height , but there is hardly ski unfortunately.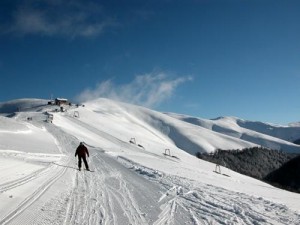 Here are some tips when driving in Romania
In Romania you should definitely stay on the main roads. In winter, the roads are mostly sprinkled with sand, and not with salt, so that the snow does not disappear when cars drive over, but the snow is being pressed. All Romanian car-rental companies have to equip the cars with winter tires, which we recommend you also if you are using a personal car. Moreover, starting with November 1st in Romania is mandatory to have your car  equipped for winter, otherwise, if you are pulled over by the police on a snowy area, you risk to get a ticket.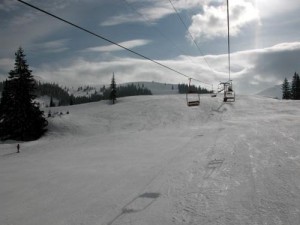 Accommodation
For accommodation, make sure you book a room in advance at least 3-4 months before so that you will not be surprised that most of the hotels are fully booked in winter.
Now that you know all this, just take your skiing equipment or rent one, and enjoy a wonderful time!
Free slope!!!