Sinaia, town story
Ever since you came to the outskirts of town, where the royal train greets an old locomotive still stationed reminiscent of centuries long past the 'pungency maximum' was 60 km / h as written on the locomotive.
Royal Station, a small station and gallivant still welcome at the entrance to the royal symbol, the wings of an eagle. Arrived here and admire you more Sinaia and halt the miniature model inside the station and the smallest detail from Sinaia. Ms. welcomes tourists who will delight the little ones asking her to look for birds, young people in the park, people who play, fire truck, sheep and many others that will delight even the big ones discovered so many details in the model.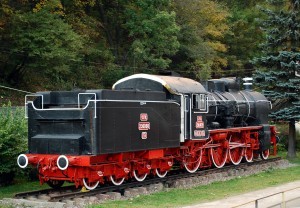 Not far from the station you can already think you are in one city from another era, recalling Ghica Park XVII, XVIII.  A walk in the park, decorated with great attention to detail, with Palace Hotel and Casino Hotel Caraiman your life will shape the image of a royal ... Park-green casino architecture and for the other buildings still whisper of Carol walks with the family.
And because a city can be discovered more comfortable with the car, I recommend renting a car or minibus with EuroCars. You will find a way through in the forest and will guide your steps towards the holy shrine of the Sinai monastery. Holy shrine shelters plenty of history and if you have the opportunity to hear a teacher telling about the monastery will be fascinated, but outside of history remains a place to stay with the holy spirit to pray and not to admire the sight.
Along the same road you will encounter some troubadours who sing your tunes and famous before long you will remain dumbfounded seeing the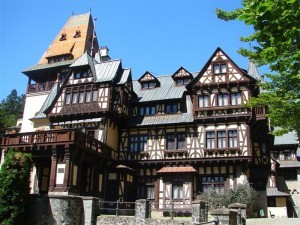 grandeur of Peles Castle. While you will be hard, better visit the castle began Pelisor. Beyond all the information that you will give your guide, you will create Pelisor image of a castle with 99 rooms where Queen Mary has left a mark of royal life.
After you look delighted Pelisorul will amaze Peles. It creates the impression of a modest castle, beautiful trees that surround him hide his greatness. Arriving in the courtyard of the palace you really believe that Sinaia is a royal city. Grandeur castle from the entrance courtyard, statues are well preserved as evidence, but the interior of the 160 rooms will surely amaze. Detach yourself from what you will guide nice story from each camera, however you will retain only a few architectural styles and several rooms which were important figures such as George Enescu. Here art detail is always present you will need days to see every detail in every room, but beyond greatness castle rooms that depict the unique and luxurious like in 1883, is so well preserved that you will feel you are visiting Carol and looking into the castle, but he is much in his room by climbing on his secret entrances, and the Queen Mary expect to find in a small cinema palace. I talk a lot about the castle, but insignificant words are all he can say besides this castle...
If you think you have seen everything you got remember that visit and George Enescu Memorial House, Tower - slightly above the Pelisor and last but not least Caroli Avenue downtown, where hotels are per square inch, or you can walk around town with little tourist train.
For those passionate natures more than the history, Sinaia offers: ski trails, mountain roads furnished, and cable cars that climb up the quota in 2000.
If  I was amazed from watch man can do, how much art created , reached at  the mountain vastness I am  amazed by how many and how offer pure nature and wild landscape in ours named Romania ... the mighty mountains spring up everywhere, a fresh green trees make you want to stay in the vastness of the landscape that makes you a city story, Sinaia.
Useful Information...
About transmission
As the access roads and railways remain Sinaia road DN1 road, and some information about possible means of transportation you can find below...
Minibus :  L-M-M-J-V-S-D Bucuresti - 06:00, Sinaia - 08:33,
CFR :
Accelerat  Bucuresti Nord - Sinaia  6:08 - 8:09 02h 01m
Rapid         Bucuresti Nord -Sinaia  8:40 -  10:52 02h 12m
Rapid          Bucuresti Nord -Sinaia 14:05 - 16:13 02h 08m
You can rent a car calling  : +4 0724  90 5000 or  +4 021 232 52 66
A small tourist map does not hurt anyone.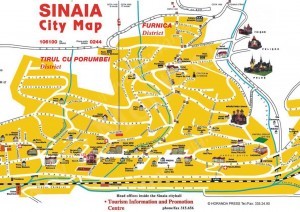 About accommodation
Octavian Goga Street, number.4, Location  Sinaia, district Prahova ,106100, Romania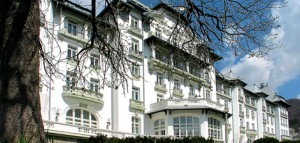 Tel: 0040-244.312.052 / 0040-244.311.542
Fax: 0040-244.311.542 / 0040-244.310.625
Mobil: 0040-741.090.000
E-mail: office@palace-sinaia.ro
About Tarif accommodation for two persons / one night:
double room      € 100.00
studio                €134.00
apartment          €146.00
Pension  Casa noastra **
Accommodation Bookings:
tel. fax :   0244.314 556
tel. mob.: 0745.655 895
tel. mob.: 0735.843 550
Restaurant bookings:
tel. mob.: 0732/513151
Organizing special events:
tel. mob. 0724/246979
E-mail: rezervari@casanoastrasinaia.ro
Address: Bulevardul Republicii, nr. 9
Sinaia, PRAHOVA
COD 106100
Accommodation charge:
- double room starts at 60 lei/day;
- triple room starts a 80 lei/day;
Rates
| | | | |
| --- | --- | --- | --- |
| Room Type | Pers. | Pret de la | Moneda |
| Double room Matrimonial | 2 | 80 | RON |
| Studio | 3 | 100 | RON |
| 1 Bedroom Apartment | 3 | 100 | RON |
| 2 Bedroom Apartment | 4 | 160 | RON |
Services offered - Alex Hotel Sinaia Restaurant Transylvanian cuisine.
Terrace of 150 seats.
Color TV with 41 + cable TV programs, including HBO.  Payment by credit card.
Feasts.
Fridge / mini bar in the room.
About the mountain
For those who want to go through several mountain rescue service roads may be available with information on hiking trails or to help in different situations, calls for that area would be useful members of mountain rescue mobile 0244 311 699 or 0726 686 791
For tourists who want to venture on the mountain must meet a minimum of rules:
respect nature because nature is a divine gift that we have;

before leaving the road, tell you about the routes proposed mountain, its difficulty level and try to find out how favorable it is time to go on the mountain;

keep personal data in a cottage there and inform staff on the route to be traveled;

do not leave one on the road, plus go in groups is much easier and fun;

leave the mountain only with proper equipment consists of cape, boots, flashlight and a first aid kit;

choose the route depending on the physical training of the younger group of friends or the weakest track ready to move mountains;

mountain path and follow the signs not only go through other routes that can be dangerous;

• If weather are not with you take cover time to the nearest cottage.
The opening hours of gondola in Sinaia:
Summer: Monday - Sunday 9.00 to 19.00, Tuesday 12.00 to 19.00.
Winter: Monday - Sunday 8.30 to 17.00, Tuesday 12.00-17.00.
Note: Every Tuesday between 8 and 12 is a review the gondola  and transport of the tourists are not allowed.
Cable Car Share 2000 Share 1400-Working Hours:
Winter: Monday - Sunday 8:30 a.m. to 5:00 p.m.
Summer: Monday - Sunday 8:30 a.m. to 6:00 p.m.
REVISION: Monday 8:00 to 12:00.