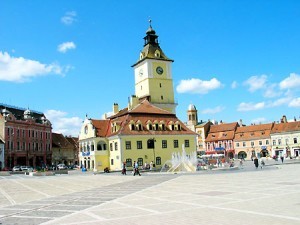 One thing that usually gives headaches about planning a vacation is: where to go? The answer to that question depends on your leisure and what you like to do during your vacation. There are many places to go, all of them having their own beautiful parts, the only thing that a travel blog can do is give you ideas.
Considering the many advantages offered, we can suggest Brasov as a starting point for your vacation. Brasov is located almost in the center of Romania and has lots to offer either on its own, as well as by the great access it provides to nearby attractions by car rental, by foot or by bike.
So what can I do in Brasov?
There's a lot of places to see in Brasov, and especially in the historical part of the city, while the nature itself has a big impact on the surroundings, giving the city an old yet refreshing feeling. As some people say, "Why bother coming to Romania if you're not going to see Brasov?" Of the greatest attractions, often marked as "not to be missed", is the Old Town featuring medieval buildings in different architectural styles. The center point is the Council Square (Piata Sfatului) and the Black Church in the vicinity, the largest gothic church in Romania.
Another feature of Brasov is that the vacations here benefit from good access to reknown attractions around the city, the most important being the Poiana Brasov resort especially famous during winter, but not only. On the not to be missed list should also be the Rasnov town and fortress 30 km away, or the Bran Castle, also called Dracula's Castle.
How can I get to Brasov?
Unfortunately, Brasov does not have an airport yet, although plans for one do exist. The closest airport is the Bucharest Otopeni Airport, where you can hire a Bucharest - Brasov transfer service. It only takes 3 hours by car. Another way to arrive to Brasov is by train, but that leaves you walking with your luggage on your back, although you could rent a car Brasov from EuroCars for affordable prices, enjoying a really comfortable vacation.
You can find more detailed touristic information on our About Brasov page.