City Highlights
Bucharest is the capital and the largest city of Romania, and was first mentioned in documents in September 20th, 1459. Apart from being the administrative and economic centre, it is also a starting point for tourist destinations across Romania. The French influence in culture and architecture earned Bucharest the nickname of "Little Paris". Bucharest has an important number of landmarks and monuments, such as the Palace of Parliament or the Arch of Triumph.
Tourist Attractions
The most prominent of the landmarks in Bucharest is the Palace of Parliament, the largest building in Europe and second-largest in the world. It houses the Romanian Parliament and the National Museum of Contemporary Art. Other renowned landmarks include the French-inspired Arch of Triumph modeled in 1935 after the similar one in Paris, or the Romanian Athenaeum, a symbol of the Romanian culture.
There are also many museums in Bucharest, such as the Museum of the Romanian Peasant, the National Museum of Art, or the National History Museum.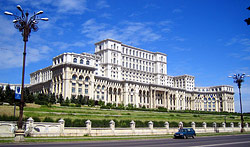 How to Get to Bucharest
Bucharest has two international airports, Henri Coanda in Otopeni and Aurel Vlaicu in Baneasa, with many flights all over the world. To get to the main city, you could use the Bucharest Airport Transfer service. Bucharest is also the hub of the national railway network and a major intersection of the national roads.
Getting Around Bucharest
Getting around Bucharest is achieved by the public transport system, which includes buses, trolleybuses, trams, and an underground railway. There is also the option to rent a car using services offered by EuroCars. There are also limousine rental services and minibus rental services available.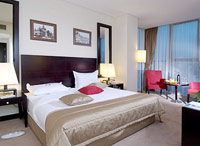 Where to Stay
Due to the economic boom of the recent years and the increasing number of tourists, Bucharest has developed many accommodation offers, such as hotels and hostels, or the option of renting short and long term apartments.
more accommodation information: Bucharest Apartments by EastComfort
Where to Eat
Finding the appropiate dining place in Bucharest isn't difficult. A great number of restaurants and bars are available, with many of them serving traditional Romanian specialties. There are also fast foods available. Many of the bars and clubs are located in the historic centre of the city.

Shopping
Bucharest's main shopping areas consist of several malls and shopping centres available throughout the city, although small shops are also a viable option. There are plenty of places to buy souvenirs, the most common being related to Romanian folklore. The best place to see such items is the Museum of the Romanian Peasant.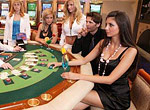 Entertainment/Nightlife
Apart from the ocasional events that take place in Bucharest, there is always a theatre or a cinema to go to for entertainment, as well as art exhibitions. Nightlife in Bucharest has a lot to offer on its own. The jazz and blues scene are bustling, Romania having a few big names locally. Bucharest has something for everyone, like bars and clubs, discos, or even casinos.
Map
An online map of Bucharest, with street names and a search engine is available at www.bucharest-map.com