Related rent a car driving information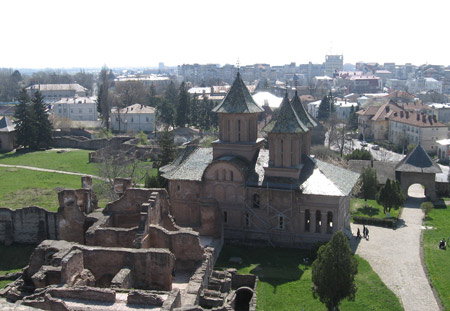 If you rent a car in Targoviste, you can get around and make the most of your Romanian experience. Targoviste (derived from a Bulgarian word meaning "marketplace") is situated in the county of Dambovita. It is a significant site throughout Romanian history. It was the capital of the Wallachian Voivodship. It is here that Mihai Viteazul won a battle against the Ottoman Empire and that the trial and execution of Nicolae Ceausescu and his wife took place in December 1989. Targoviste is easy to reach as it is located at the junction of many railway routes in Romania. Visitors will enjoy the Chindiei Tower, built during the reign of Vlad the Impaler and the emblem of the city. The Princely Court will offer its visitors a "taste" of what Targoviste used to be in its flourishing era.
EuroCars Targoviste also offers you the chance to see where you can get a place to stay in while in Targoviste. By following the link More on Targoviste you can see what Romanians do for fun in Targoviste, what are the most popular places to go to for a chat with your friends over a cup of coffee or what are the greatest museums to visit to enhance your knowledge of Romanian culture and civilization.
Car Rental Targoviste with driver & Airport delivery
Let our driver take you around, whether you are in Targoviste, Romania for your holiday or your business trip, browse through our website to view our car rental offers and get in touch with EuroCars Targoviste to hire a car. Apart from regular rent a car services, we can also offer our clients several services that will allow them to enjoy the scenery or rest in a comfortable atmosphere. One of them is the airport transfer from Bucharest Otopeni and it is meant to help you get from the airport to the hotel you are staying or to a city/ town outside of Targoviste. You can choose to do just one way or a round trip. Our Customer Service operators are here to offer you more details.
If you're thinking car rental is expensive, think again. Our company EuroCars Rent A Car Targoviste will meet your needs, clients will enjoy good cars and fast delivery at the airport or at the hotel. Excellent rent a car Targoviste services with EuroCars
Minibus Rental
For small or large groups of passengers, EuroCars Targoviste has thought of a way to help its clients get around the country at their leisure. We rent minibus with a driver in Targoviste for airport transfers (one way or round trip), intercity transfers (one way or round trip) or for tours with a fixed schedule.
Take your rental car from Targoviste to see more of Romania
You can easily choose the car rental location on this page if you're interested in hiring a car with EuroCars. Our statement is to provide all of our clients with fast, friendly and efficient rent a car Targoviste service. In order to present continuous reliability, our car hire company offers 24h authorised technical assistance, included in the rental price. With our current car rental offer, you can have the car delivered at the hotel/airport, if you may so require, or drop it off in the city centre. EuroCars has locations all over Romania.