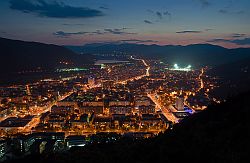 City Highlights
Piatra Neamt lies in the historical region of Moldavia, and it is considered one of the most picturesque cities in Romania because of its privileged location in the Eastern Carpathian mountains. The city is surrounded by five mountain peaks, giving it all the advantages offered by a mild climate and a unique nature. The oldest traces of human civilisation date back to the Stone Age. The renowned Cucuteni culture (3600-2600 BC) was attested in the region by a remarkable number of settlements and archaeological diggings. Excavations just outside the city revealed the ruins of a large Dacian city named Petrodava. Piatra Neamt is home to many cultural events, including the International Theatre Festival in the springtime, the classical music event Musical Holidays in the summertime and more folklore festivals all year round.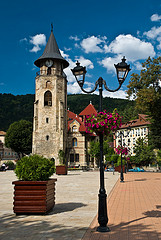 Tourist Attractions
The main attractions in Piatra Neamt are the mountains and the lakes in the area, the festivals held throughout the year, and the many historical buildings such as Stephen's Tower or the Princely Court, built in the 15th century during the reign of Stephen the Great. Other important attractions are the History & Archaeology Museum, which hosts the Cucuteni exhibition - the largest Aeneolithic artifacts collection in southeastern Europe, the 15th century Bistrita Monastery, located 8 km west of the city, or the Cozla Park, including the Zoo and the ski slope.

How to Get to Piatra Neamt
Piatra Neamt is linked by railway to Bucharest and Iasi, and by a national road to Bacau, Iasi, Suceava, and Targu Mures (Transylvania). The nearest airport is in Bacau, 60 km south.
Getting Around Piatra Neamt
Cheap minibuses run throughout the city, and the price doesn't change regardless of the length of the ride. Taxis are affordable, but they will try to exploit the tourists. A more convenient option is to rent a car, for example using services offered by EuroCars.

Where to Stay
Due to the economic boom in the recent years and to the increasing number of tourists, Piatra Neamt has developed many accommodation offers, such as hotels and hostels and the option of renting short and long term apartments.

Where to Eat
Finding the appropiate dining place in Piatra Neamt isn't difficult. A great number of restaurants and bars are available, with many of them serving traditional Romanian specialties. There are also fast foods available.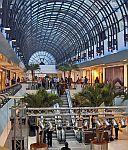 Shopping
Piatra Neamt has several shopping centres available throughout the city, and there are also plenty of places to buy souvenirs at, the most common being related to Romanian folklore.

Entertainment/Nightlife
Apart from the occasional events that take place in Piatra Neamt, there is always a theatre or a cinema to go to for entertainment, as well as art exhibitions. Nightlife in Piatra Neamt has a lot to offer on its own. Piatra Neamt has something for everyone, like bars and clubs, discos, or even casinos.