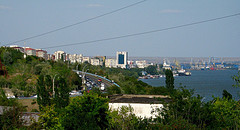 City Highlights
Galati is a city in the region of Moldavia - eastern Romania - on the banks of the Danube. The country's largest shipyard on Danube is located here, which benefits from the good access Galati has to the Black Sea through the Danube Delta. The first mention of the city dates from 1445, and in 1789 it was burnt down during the Russian-Turkish War. A renowned peasant revolt took place in and around the city in 1907. In Bram Stoker's novel Dracula, Galati is the port at which Count Dracula disembarked his ship on his escape back to Transylvania.
more travel information: www.romaniatourism.com/galati.html
Tourist Attractions
Galati has a 20th century Romanian Orthodox cathedral, St. George, and another fortified church, St. Mary (Sf. Precista), on the banks of the Danube, built in 1647. Legend has it that a tunnel was dug from the church and under the river. The city also has a botanical garden, several museums, the newly-restored Opera House, and a sculpture park of several kilometres along the banks of the Danube. The Galati TV Tower is a 150 metre tall telecommunication tower, built of concrete and open to the public, which offers a full view of the city.

How to Get to Galati
Galati is connected to the main Romanian cities by roads and railways. As a port, Galati is also reachable by water from the Black Sea or through the Danube.
Getting Around Galati
Several bus routes connect Galati's main areas and the tourist attractions. There is also the option to rent a car using services offered by EuroCars.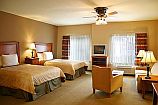 Where to Stay
Due to the economic boom of the recent years and the increasing number of tourists, Galati has developed many accommodation offers, such as hotels and hostels and the option of renting short and long term apartments.
Where to Eat
Finding the appropiate dining place in Galati isn't difficult. A great number of restaurants and bars are available, with many of them serving traditional Romanian specialties. There are also fast foods available, as well as country specific restaurants.
Shopping
Galati has several shopping centres available throughout the city, and there are also available plenty of places to buy souvenirs from, the most common being related to Romanian folklore.

Entertainment/Nightlife
Apart from the ocasional events that take place in Galati, there is always a theatre or a cinema to go to for entertainment, as well as art exhibitions. Nightlife in Galati has a lot to offer on its own. Galati has something for everyone, like bars and clubs, discos, or even casinos.