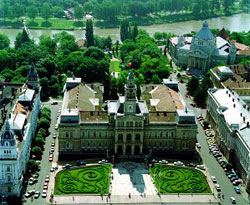 City Highlights
Arad is an major city in western Romania, on the banks of the river Mures. It is an industrial centre and transportation hub, with connections to important European roads and railway routes. Arad features two universities, a Romanian Orthodox theological seminary, and a music conservatory. The city was first mentioned in historical documents in the 11th century, and was fortified during the Mongol invasion of the Kingdom of Hungary in 1241. Under the rule of the Habsburg Empire, a new fortress was built between 1763 and 1783, and played a great role in the Hungarian struggle for independence in 1849. The city has a museum containing relics of this war of independence. The works erected by the Turks to capture the fortress of Arad in the 17th century formed the nucleus of the new settlement.
more travel information: www.romaniatourism.com/arad.html
Tourist Attractions
Arad has an important number of architectural monuments and historic buildings. The Administrative Palace was built in renaissance style, while the Neuman Palace, the Judiciary Palace, or the National Bank Palace are a fine example of eclecticism and neoclassical architecture. The Fortified Town of Arad, a Transylvanian fotress built in the Vauban style, or the House with Cannon Balls, named after the seventeen cannon balls incorporated in its walls, are remnants of the city's past. Arad also has Baroque style churches, such as the St. Simon Monastery and the St. Peter and Paul Serbian Church, or the St. Anthony of Padua (Roman Catholic) Cathedral raised in 1904 in a renaissance architecture style.
How to Get to Arad
Arad is an important transportation hub, being connected to European roads and railways. The city also has an airport with flights to/from Bucharest and several cities in Italy and Germany. To get to the main city of Arad, you could use the Arad Airport Transfer service.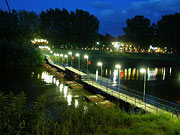 Getting Around Arad
Several bus and tram routes connect Arad's main areas and the tourist attractions. There is also the option to rent a car using services offered by EuroCars.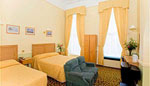 Where to Stay
Due to the economic boom of the recent years and the increasing number of tourists, Arad has developed many accommodation offers, such as hotels and hostels, or the option of renting short and long term apartments.

Where to Eat
Finding the appropiate dining place in Arad isn't difficult. A great number of restaurants and bars are available, with many of them serving traditional Romanian specialties. There are also fast foods available.

Shopping
Arad has several shopping centres available throughout the city, and there are also plenty of places to buys souvenirs, the most common being related to Romanian folklore.

Entertainment/Nightlife
Apart from the ocasional events that take place in Arad, there is always a theatre or a cinema to go to for entertainment, as well as art exhibitions. The nightlife in Arad has a lot to offer on its own. Arad has something for everyone, like bars and clubs, discos, or even casinos.