Rent this Hyundai I30 Economy class when you are in Timisoara Airport
- If you're onto this page, it means that you're pretty close to making your final decision as to the rental car you'd like to book. Before that though, just make sure that you've selected the right rental period so that you can visualise the correct rate. Below are our vehicles available for hire, add now your favorite car and compare different models and choose the car you like.
Hyundai i30 - ID 188
Favorite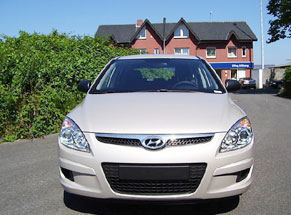 Manual
Gasoline
5 Passengers
4 Doors
x 3
Car Features
ABS
Air Bags
Air Conditioning
CD player
Manual Gearbox
MP3 Player
Power Steering
Power Windows
Price from
30€
25€
/day
1 - 4
46€ 39€
5 - 8
44€ 35€
9 - 14
39€ 34€
15 - 21
36€ 30€
22+
30€ 25€
By selecting your car rental period you will receive the lowest car rental rates online with up to
30% discount!
—
This Hyundai i30 is offered for rent/hire in Timisoara Airport.
Included in price
Third party liability (TPL)

Third Party car Insurance covers you for damage caused by your car to a car owned by a third party in the event of an accident.

Collision Damage Waiver (CDW)

Covers the rental vehicle in the event of accidental damage to the rental vehicle other than by theft or attempted theft.

Theft Damage Waiver (THW)

Theft Damage Waiver provides coverage for the theft towards your rented car, provided by an official statement document obtained from the official authorities.

VAT

Value Added Tax is a tax on the estimated market value added to a product material or service at each stage of its manufacture or distribution. The value of tax in Romania is 19% applied to the price of product or service.
Not included in price
Additional driver

Additional drivers will be anyone other than yourself, who will drive your rental car. Even if you rent a car, but never drive it, you are automatically considered the primary operator of the rental vehicle. Anyone else who drives your rental must be approved by the rental company. They must complete and sign a form at the rental counter.
Our popular car hire locations
: From this page you can easily choose where you're interested in renting a car. EuroCars has cars to rent in almost every major location in Romania so if you need to drop the car off in a different rental location, it will be done. Whether you are picking your hire car up in Iasi, Bucharest, Suceava, Arad, Timisoara, Brasov, Bacau, Targu Mures, Piatra Neamt, Sibiu or Constanta, notify us of where you'd like to leave the car (preferably when you submit your reservation request) so that we can help you make plans accordingly.

Timisoara International Airport
Related rent a car Timisoara Airport information
"Traian Vuia" International Airport Timisoara is the third largest airport in Romania having with dozens of flights that link across Europe.
Featuring two terminals, one for domestic flights and one for external ones, Timisoara Airport has known a increasing in recent years of passenger traffic and also the cargo, being the cause of the recent economic development of Timisoara.
Car Rental Timisoara with driver & Airport delivery
Whether you are in Timisoara, Romania for your holiday or your business trip, browse through our website to view our car rental offers and get in touch with EuroCars Timisoara to hire a car. Apart from regular rent a car services, we can also offer our clients several services that will allow them to enjoy the scenery or rest in a comfortable atmosphere. One of them is the
airport transfer from Timisoara Airport
and it is meant to help you get from the airport to the hotel you are staying or to a city/ town outside of Timisoara. You can choose to do just
one way
or a
round trip
. Our Customer Service operators are here to offer you more details.