Rent this Dacia Logan Medium class when you are in Targu Mures
- If you're onto this page, it means that you're pretty close to making your final decision as to the rental car you'd like to book. Before that though, just make sure that you've selected the right rental period so that you can visualise the correct rate. Below are our vehicles available for hire, add now your favorite car and compare different models and choose the car you like.
Dacia Logan - ID 1302
Favorite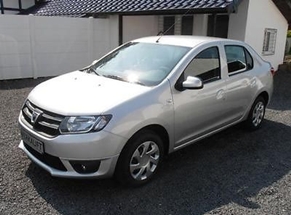 Manual
Gasoline
5 Passengers
4 Doors
x 3
Car Features
Air Bags
Air Conditioning
CD player
Central lock system
Manual Gearbox
Power Steering
Price from
22€
/day
1 - 3
39€
4 - 7
37€
8 - 14
32€
15 - 30
27€
31+
22€
By selecting your car rental period you will receive the lowest car rental rates online with up to
30% discount!
—
This Dacia Logan is offered for rent/hire in Targu Mures.
Included in price
Collision Damage Waiver (CDW)

Covers the rental vehicle in the event of accidental damage to the rental vehicle other than by theft or attempted theft.

Theft Damage Waiver (THW)

Theft Damage Waiver provides coverage for the theft towards your rented car, provided by an official statement document obtained from the official authorities.

Third party liability (TPL)

Third Party car Insurance covers you for damage caused by your car to a car owned by a third party in the event of an accident.

VAT

Value Added Tax is a tax on the estimated market value added to a product material or service at each stage of its manufacture or distribution. The value of tax in Romania is 19% applied to the price of product or service.
Not included in price
Additional driver

Additional drivers will be anyone other than yourself, who will drive your rental car. Even if you rent a car, but never drive it, you are automatically considered the primary operator of the rental vehicle. Anyone else who drives your rental must be approved by the rental company. They must complete and sign a form at the rental counter.

Fuel

Usually the company offers you the car with a full tank of fuel. The client has to return the motor vehicle when the period of contract ends with full fuel tank (otherwise the Client shall pay the quantity of fuel at the price of 1,5 euro per liter).
Our popular car hire locations
: From this page you can easily choose where you're interested in renting a car. EuroCars has cars to rent in almost every major location in Romania so if you need to drop the car off in a different rental location, it will be done. Whether you are picking your hire car up in Iasi, Bucharest, Suceava, Arad, Timisoara, Brasov, Bacau, Targu Mures, Piatra Neamt, Sibiu or Constanta, notify us of where you'd like to leave the car (preferably when you submit your reservation request) so that we can help you make plans accordingly.

Related rent a car driving information
If you rent a car in Targu Mures, you can get around and make the most of your Romanian experience.
Targu Mures or
"the city of the roses"
is a city that is a beautiful mix of both Romanian and Hungarian influences. It dates back to the 14th century and it became the seat of the supreme court of justice of the Principality of Transylvania in the 18th century. Targu Mures developed economically throughout time through the activity of the
guilds
or groups of craftsmen. Visitors will definately appreciated the
Roses Square
, lined with cafes, restaurants, churches and monuments. If you are in Targu Mures and you want to learn more about its culture and history, you will appreciate the
Culture Palace
, the Apollo Palace, the
Targu Mures Fortress
, the Art Museum or the History and Archeology Museum.
Car Rental Targu Mures with driver & Airport delivery
Whether you are in Targu Mures, Romania for your holiday or your business trip, browse through our website to view our car rental offers and get in touch with EuroCars Targu Mures to hire a car. Apart from regular rent a car services, we can also offer our clients several services that will allow them to enjoy the scenery or rest in a comfortable atmosphere. One of them is the
airport transfer
and it is meant to help you get from the airport to the hotel you are staying or to a city/ town outside of Targu Mures. You can choose to do just
one way
or a
round trip
. Our Customer Service operators are here to offer you more details.
Hotels in Targu Mures
EuroCars Mures also offers you the chance to see where you can get a place to stay in while in Targu Mures. By following the link
More on Targu Mures
you can see what Romanians do for fun in Mures, what are the most popular places to go to for a chat with your friends over a cup of coffee or what are the greatest museums to visit to enhance your knowledge of Romanian culture and civilization.
Minibus Rental
For small or large groups of passengers, EuroCars Targu Mures has thought of a way to help its clients get around the country at their leisure. We rent minibus with a driver in Targu Mures for airport transfers (one way or round trip),
intercity transfers
(one way or round trip) or for
tours
with a fixed schedule.