Reliable cars for rent in Sighisoara
- Hire one of these s from Automatic Gearbox class in Sighisoara for the time frame that you have selected and let us know whether you'd like to pick it up at one of our offices or have it delivered at a specific location.
Guarantee with Credit Card and Save up to
30%!
1 day rental

guarantee required

Pay at location

when you pickup the car

Instant confirmation

of your booking
Our popular car hire locations in Romania
- Choose one of these 's to rent in Sighisoara or in other cities such as: Arad, Timisoara, Sibiu, Oradea, Brasov, Bucharest, Iasi or Suceava and you will get to your destination in no time. Plus, you will save lots of money that you could spend on something else. What makes our rent a car offers so attractive is that there are no hidden costs and the staff is always ready to help with any extra information.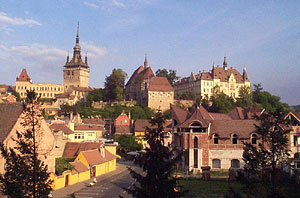 More on Sighisoara
Related rent a car driving information
If you rent a car in Sighisoara, you can get around and make the most of your Romanian experience.
Sighisoara is one of the best preserved medieval towns in Europe and it has been designated as a
World Heritage Site
by UNESCO. As a curiosity, it is the
birthplace of Vlad the Impaler
, know as Dracula in fiction. It's a must see if you are one of those people who is simply in love with magical atmosphere places. The Church on the Hill, the 16th century Venetian House,
Sighisoara's Citadel
, the Lepers' Church or the
Tower Clock
with its different figurines will fascinate you and make you feel like you are almost travelling back in time. The
Festival of Medieval Arts and Crafts
that takes place in July is a great opportunity to see what the town was like at its best time.
Car Rental Sighisoara with driver & Airport delivery
Whether you are in Sighisoara, Romania for your holiday or your business trip, browse through our website to view our car rental offers and get in touch with EuroCars Sighisoara to hire a car. Apart from regular rent a car services, we can also offer our clients several services that will allow them to enjoy the scenery or rest in a comfortable atmosphere. One of them is the
airport transfer from Sibiu Airport
and it is meant to help you get from the airport to the hotel you are staying or to a city/ town outside of Sighisoara. You can choose to do just
one way
or a
round trip
. Our Customer Service operators are here to offer you more details.
Hotels in Sighisoara
EuroCars Sighisoara also offers you the chance to see where you can get a place to stay in while in Sighisoara. By following the link
More on Sighisoara
you can see what Romanians do for fun in Sighisoara, what are the most popular places to go to for a chat with your friends over a cup of coffee or what are the greatest museums to visit to enhance your knowledge of Romanian culture and civilization.
Minibus Rental
For small or large groups of passengers, EuroCars Sighisoara has thought of a way to help its clients get around the country at their leisure. We
rent minibus with a driver in Sighisoara
for airport transfers (one way or round trip),
intercity transfers
(one way or round trip) or for
tours
with a fixed schedule.
Refine results - Filter by
1 car for rent in Sighisoara (subject of availability)