Rent this Audi A8 Luxury class when you are in Bucharest
- If you're onto this page, it means that you're pretty close to making your final decision as to the rental car you'd like to book. Before that though, just make sure that you've selected the right rental period so that you can visualise the correct rate. Below are our vehicles available for hire, add now your favorite car and compare different models and choose the car you like.
Audi A8 3.0 TDI or Similar - ID 1293
Favorite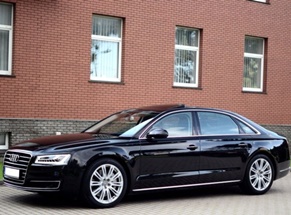 Automatic
Diesel
5 Passengers
4 Doors
x 4
Car Features
ABS
Air Bags
Cruise Control
Navigation
TV/LCD
Price from
100€
/day
1 - 3
165€
4 - 7
150€
8 - 14
135€
15 - 21
125€
22 - 30
115€
31+
100€
By selecting your car rental period you will receive the lowest car rental rates online with up to
30% discount!
—
This Audi A8 is offered for rent/hire in Bucharest.
Our popular car hire locations
: From this page you can easily choose where you're interested in renting a car. EuroCars has cars to rent in almost every major location in Romania so if you need to drop the car off in a different rental location, it will be done. Whether you are picking your hire car up in Iasi, Bucharest, Suceava, Arad, Timisoara, Brasov, Bacau, Targu Mures, Piatra Neamt, Sibiu or Constanta, notify us of where you'd like to leave the car (preferably when you submit your reservation request) so that we can help you make plans accordingly.

Related rent a car driving information
If you rent a car in Bucharest, you can get around and make the most of your Romanian experience.
Situated in the south-eastern part of Romania, Bucharest is the capital city of Romania. Founded by the Slavs in the 9th century, it was only mentioned for the first time in the 15th century as one of the places where Vlad Tepes (Prince Vlad) resided. Bucharest will impress its visitors by the sumptious buildings and tourist attractions such as the
Palace of the Parliament
, designed and almost completed during the Ceausescu regime as the focal point of the social and political power. Visitors will equally enjoy the
Romanian Athenaeum
or the Old Princely Court & Church. When wanting to get a glimpse of Bucharest in olden days, try
Manuc's Inn
or the Beer Cart Restaurant.
Car Rental Bucharest with driver & Airport delivery
Let our driver take you around, whether you are in Bucharest, Romania for your holiday or your business trip, browse through our website to view our car rental offers and get in touch with EuroCars Bucharest to hire a car. Apart from regular rent a car services, we can also offer our clients several services that will allow them to enjoy the scenery or rest in a comfortable atmosphere through
our airport transfers
from one of the aiports in Bucharest to their hotel or other locations in the country,
renting minibus and vans with a driver in Bucharest
for small or large groups of passengers. All for your convenience.
Hotels in Bucharest
EuroCars also offers you the chance to see where you can get a place to stay in while in Bucharest. Check also
EastComfort Bucharest
cheap accommodation offers. By following the link
More on Bucharest
you can see what Romanians do for fun in Bucharest, what are the most popular places to go to for a chat with your friends over a cup of coffee or what are the greatest museums to visit to enhance your knowledge of Romanian culture.
Visit Bucharest in a luxury limousine
When you want to get around Bucharest in a comfortable way and if image matters to you,
renting a limousine
might be the deal for you. This service is available for
business trips
or
special occasions
such as birthdays and weddings. Choose the service that best suits you and we will drive you to your destination.