Rent this Audi A8 Luxury class when you are in Bucharest Baneasa Airport
- If you're onto this page, it means that you're pretty close to making your final decision as to the rental car you'd like to book. Before that though, just make sure that you've selected the right rental period so that you can visualise the correct rate. Below are our vehicles available for hire, add now your favorite car and compare different models and choose the car you like.
Audi A8 3.0 TDI or Similar - ID 1293
Favorite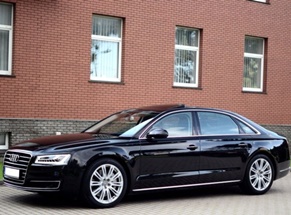 Automatic
Diesel
5 Passengers
4 Doors
x 4
Car Features
ABS
Air Bags
Cruise Control
Navigation
TV/LCD
Price from
100€
/day
1 - 3
165€
4 - 7
150€
8 - 14
135€
15 - 21
125€
22 - 30
115€
31+
100€
By selecting your car rental period you will receive the lowest car rental rates online with up to
30% discount!
—
This Audi A8 is offered for rent/hire in Bucharest Baneasa Airport.
Our popular car hire locations
: From this page you can easily choose where you're interested in renting a car. EuroCars has cars to rent in almost every major location in Romania so if you need to drop the car off in a different rental location, it will be done. Whether you are picking your hire car up in Iasi, Bucharest, Suceava, Arad, Timisoara, Brasov, Bacau, Targu Mures, Piatra Neamt, Sibiu or Constanta, notify us of where you'd like to leave the car (preferably when you submit your reservation request) so that we can help you make plans accordingly.

Baneasa International Airport
Related information - Bucharest Baneasa Airport
Bucharest Baneasa International Airport or "Aurel Vlaicu" was in terms of passenger traffic the second largest in Romania after "Henri Coanda" airport, but since March 25, 2012 the airport was closed for low-cost airlines, and all the flights were moved to Bucharest "Henri Coanda" International Airport (Otopeni).
Over the time on the Aurel Vlaicu airport landed many world-known important people, including Pope John Paul II, Bill Gates and Madonna in 2009, for the concert she held in Bucharest.
Car Rental Bucharest with driver & Airport delivery
Let our driver take you around, whether you are in Bucharest, Romania for your holiday or your business trip, browse through our website to view our car rental offers and get in touch with EuroCars Bucharest to hire a car. Apart from regular rent a car services, we can also offer our clients several services that will allow them to enjoy the scenery or rest in a comfortable atmosphere through
our airport transfers
from one of the aiports in Bucharest to their hotel or other locations in the country,
renting minibus and vans with a driver in Bucharest
for small or large groups of passengers. All for your convenience.